Trio Volant was formed in 2010 whilst all the members were studying at the Royal Northern College of Music. The Trio regularly give formal recitals and lunchtime concerts in and around Manchester and the North West as well as further afield from Wales to Essex! Past engagements have included recitals for Darlington Music Society, Little Gaddesden and District Concert Club, Wisbech Concert Society, Buxton International Music Festival, Huddersfield Music Society, Harlech Concert Society, Harrogate International Music Festival, Lincoln International Chamber Music Festival and Maldon Festival of Arts amongst many others. The Trio particularly enjoy the opportunity to perform the lesser known reed trio chamber music repertoire.
​
The Trio were awarded the Dorothy Parkinson Memorial Award for Young British Musicians 2017 and are currently Recommended and Selected Artists for Making Music 2019-2020.
The individual members have a wealth of solo, chamber music and orchestral experience between them, performing nationally. Richard is a busy freelance bassoonist and is in demand throughout the North West having completed his postgraduate studies at the Royal Northern College of Music. Bea enjoys a varied career as a peripatetic teacher, animateur and freelance oboist. Tom divides his time between instrumental teaching, performing as a freelance clarinettist and working as a Music for Health practitioner. The group's members have worked with The Halle, Royal Liverpool Philharmonic Orchestra, BBC Philharmonic, Sinfonia ViVa, Raymond Gubbay's Manchester Concert Orchestra, Northern Chamber Orchestra, National Festival Orchestra and Liverpool Sinfonia amongst others. The trio are looking forward to a number of recital engagements in 2019 including Darlington Music Society, Harlech Concert Club, Saddleworth Concert Club, Grange-Over-Sands Concert Society and many more as well as being involved in Music for Health projects with Live Music Now.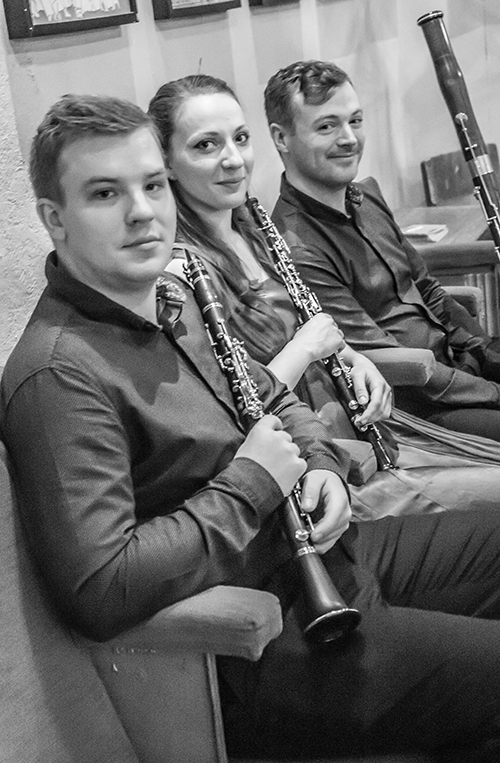 Always keen to expand the repertoire, Trio Volant were delighted that in 2018 Anthony Gilbert (previous Head of Composition at the Royal Northern College of Music) kindly offered to write a new work dedicated to the Trio. Premiered at the Lincoln International Chamber Music Festival, "Return of the St Louis" is a reflective and though provoking work and has been received with enthusiasm at a number of performances since.
Tom Evans
Clarinet
​
Tom graduated from the Royal Northern College of Music with a Master of Music degree, supported by a Rowland Hardy Bequest Bursary. During his studies at RNCM, Tom was the recipient of the Winfield Graham Solo Wind Prize. In addition he received funding from the Wolfson Foundation. Since graduation Tom has enjoyed a varied and busy freelance career combining orchestral and chamber music performance, music for health and teaching. As an orchestral player he has performed with the Hallé Orchestra, Opera North, BBC Philharmonic, Raymond Gubbay's Manchester Concert Orchestra and Sinfonia Viva amongst others. With Trio Volant, he gives recitals up and down the country for music clubs and societies. Alongside this the trio leads educational workshops as part of the Live Music Now scheme and Music for Hospitals. Working closely within SEN settings Tom is an Associate Artist with Jessie's Fund, Assistant Workshop Leader with Music Unlimited as well as being Musician-in-Residence at a number of schools. Tom also teaches Clarinet and Saxophone at Stockport Grammar School and for Yorkshire Young Musicians in Leeds.
Beatrice Hubble
Oboe
​
After receiving a Batchelor of Music degree from the University of Manchester, Beatrice went on to The Royal Northern College of Music where she was accepted onto the solo Performance Masters' course with Britain's leading contemporary oboist, Melinda Maxwell. Whilst at the RNCM, Beatrice was the recipient of a Fewkes Scholarship, won the June Emerson Chamber Music prize with the oboe trio, Les Trois Canards and was selected to perform as a soloist with several ensembles. She graduated in 2011 and now freelances with professional organisations including the Royal Liverpool Philharmonic and Skipton Camerata. Beatrice is currently a Fellow with the charity LIVE MUSIC NOW, working as a solo practitioner in two schools for children with Special Educational Needs were she uses music to interact with children with PMLD and autism. She is also part of the flagship team working in partnership with LIVE MUSIC NOW and Alder Hey Children's Hospital to bring music to the Neuro School at Alder Hey. Beatrice is supporting a growing number of young oboists teaching at The Queen's School in Chester and The King's School in Macclesfield.
Richard Beards
Bassoon
Commencing his musical life as a violinist at the age of ten, Richard began taking bassoon lessons in 2000 before moving from Wolverhampton to Manchester in 2002 to study with Ed Warren at the RNCM. During his undergraduate course at the college he received tuition from Graham Salvage, Laurence Perkins and Meyrick Alexander, as well as several visiting international artists such as Stefano Canuti. Following a few years away from playing, Richard successfully reapplied to the RNCM for a place on the MMus course, where he studied as a recipient of the Ann Gerrard Bursary. Richard has performed in a variety of venues around the North of England. As part of the recently established Young Opera Venture, he has completed his second tour of reduced-orchestra opera, taking both Mozart's Marriage of Figaro and Magic Flute to locations that otherwise very seldom are afforded the opportunity to hear such music. Richard has appeared regularly over the last two years as a freelance bassoonist and contrabassoonist, performing with the BBC Philharmonic, the Hallé, Manchester Camerata and the Royal Liverpool Philharmonic.
This programme is kindly sponsored by Making Music